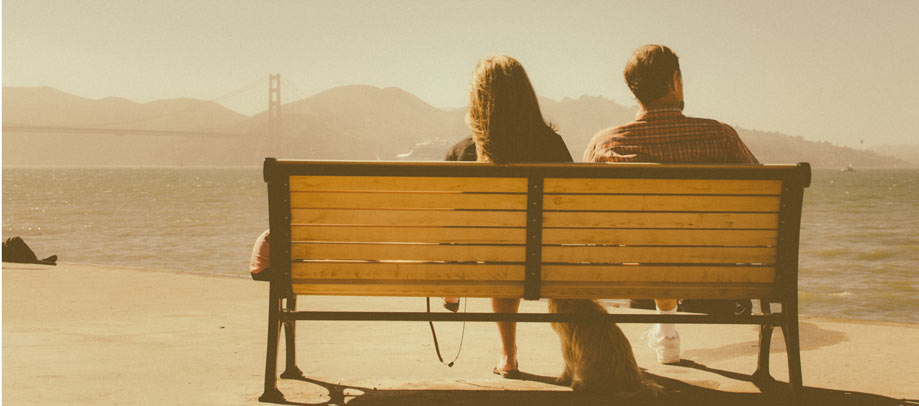 Couples Therapy
Typically couples seek therapy for two reasons--half of the people who come in for therapy want to improve their relationship and for the other half, one partner is looking for an exit strategy. People stop listening to each other and come in too late after someone has given up and emotionally disconnected. In that case, therapy may not keep the relationship from disrupting, but may help people gain some clarity. Even if you are not sure where your relationship is headed, therapy can create a path toward clarification. When substance dependence, domestic violence or an on-going affair is present, couples therapy will not be successful without first addressing the main problem.
Learning good communication skills and practicing them while staying emotionally contained and connected is the key to a successful relationship. Call us at Glencairn if you have a desire to pursue couples therapy even if you find yourself in a difficult situation. We can help you individualize a plan that meets your needs.
Solutions always include improving communication and managing emotions and may also address:

Lesbian, gay and bi-sexual issues
After the affair
Sexual intimacy

Keeping relationships healthy
Premarital counseling
Separation and divorce
Co-parenting
Do you want to spend some money to save your marriage or spend your money on property settlements, custody battles, and lawyers fees?
Qualifications of a competent couples therapist
Finding a skilled couples therapist is like finding a needle in a haystack. Most psychological disciplines do not train therapists to work with more than one person in the room. Unless a therapist has attended on-going specialized training in working with family systems, he or she may not be able to help you. Here at Glencairn we specialize in marriage and family therapy. Our therapists actually practice the skills and techniques that work. and we can give them to you so you can experience immediate improvements as well as long-term gains.

Couples therapy process
Couples therapy usually consists of two or three sessions of assessment and subsequent hour and a half to two hour treatment sessions typically on a weekly or biweekly basis. If you are coming from out of town or would like quicker results, arrangements can be made to have longer sessions or for several consecutive days or a weekend of intensive therapy. During a couples' weekend I can offer therapy designed around each couples' needs but to enhance the therapeutic process, I prefer that you commit to an entire weekend of spending relaxing and skill-building time together. I can help you put together an agenda that you can live with financially. Together we can create a couples' retreat that fits your needs. If you are interested in speaking with me about a couples weekend, please call me at my Glencairn office - 859-263-4687 - so we can discuss your needs.

All therapy is completely confidential. Only the Glencairn Center intake staff will know you are in therapy and only your therapist will know the details of your treatment.
Private pay couples therapy begins with a three step assessment of the relationship as well as each partner individually. This assessment provides the direction for your therapeutic journey. The goal of our work together is not to make you dependent on a therapist but rather to provide you with the skills you need to nurture intimacy and good feelings during a lifetime in your relationship. Each couple is unique and your own needs will determine the number of sessions that will be necessary to improve your relationship. We will work with you to decide the frequency and duration of your sessions.
When you come for couples therapy we consider seeing improvements in your relationship to be our primary goal. Towards that end individual therapy may be indicated for one or both partners as a necessary and separate component to couples therapy. Problems that one person is experiencing may interfere with the couples therapy process (i.e. depression, anxiety, trauma, family-of-origin issues, bereavement, lack of commitment, etc). If one or both need individual therapy, we will help you find an appropriate therapist for your individual treatment.
Cost for couples therapy
Many studies have shown that separated and divorced individuals are at increased risk for physical and mental health problems and the dramatic impacts of divorce on some children. Marriage is also valuable in creating and maintaining personal happiness within a stable environment and for this reason we fully support gay marriage. But staying in a distressed marriage reduces the health benefits of being married as well as negatively affecting the children. Couples therapy not only reduces the likelihood of divorce, but it also reduces the amount and degree of conflict in a marriage. This in turn appears to impact not only the health of the couple but also the health of any children in the family. Given the facts, effective marital therapy is a great investment.
While the physical and emotional benefits of staying in a good married are great, the financial costs of divorce are devastating. In a study published in the July 2007 issue of the Journal of Marital and Family Therapy, the average cost of divorce was estimated at $30,000 while the reduction in yearly health-care usage after completing marital therapy was about $3,000 per couple. The Glencairn Center fee is $130 per clinical hour (60 minutes) but couples therapy works better scheduled in two hour sessions ($220). Clients are requested to pay at the time of service. Despite the proven benefits and cost effectiveness of marital therapy, most insurance companies will not allow enough time or will not authorize the appropriate diagnostic codes to complete marital therapy. For this reason we no longer accept insurance for couples therapy.
Couples therapy will give you lasting benefits. When you pay for couples counseling privately, your therapist can individualize the time you need and will make a commitment to make sure that you have the breakthroughs and results you desire. It is hard to put a price on that. Intensive therapy or couples weekends provide the equivalent of years of counseling in a short amount of time. Attending intensive therapy or a couples weekend saves you $$$ as well as affords you the opportunity to receive phenomenal results.
Copyright © 2012-15 Glencairn Marriage & Family Therapy Center, Inc., All Rights Reserved.
Mail: Glencairn Marriage & Family Therapy Center Inc. 501 Darby Creek Road Suite 67., Lexington, KY 40509, USA.
Tel. (859) 263-4687